Sunday Services at 10:30 A.M.
October 2 Rev. Barbara Threet, Giving, Not Giving, and How It All Feels
As individuals and as a church we are often asked for various kinds of assistance. How do we decide when to give directly, or indirectly, or not at all? And how do we process the confusion of feelings and circumstances that often result in such requests?
This Sunday will be the first of our newly-initiated Food First Sunday program: please bring canned or boxed goods or another non-perishable household item, which we will donate to our local food pantry. The Board has decided to hold this food drive on the first Sunday of each month, and there will be a basket to collect our donations in the Sanctuary on these Sundays.
October 9 Rev. Calvin Dame, A Spiritual Life
When I tell someone what my profession has been, it is not uncommon to hear people rush to inform me that they are spiritual but not religious. After years and years as a minister, I find myself thinking that I am religious but not spiritual!
October 16 Nancy Weis & friends, Spoon River Anthology
The Anthology is a collection of poems by Edgar Lee Masters about the people in a small town in Illinois. We will read some of the poems, and look at the ways that those people were connected to each other, and to ourselves.
October 23 Alyssa Dufresne, Effective Communication and Addressing Conflict
Come join us as we cover the benefits of healthy, structured conflict and the different communication styles that are often used while dealing with opposing opinions. During this service, we will cover effective ways to address issues while still maintaining respect for yourself as well as the other party, focusing on passive, assertive, and aggressive communication styles.
October 30 Jane Chaplin, Tyranny and Democracy, Freedom and Responsibility
The words tyranny and democracy, and the political systems they refer to, come to us from Greek history. Using examples from Athens in the sixth, fifth, and fourth centuries BCE, I want to explore why people choose sometimes one type of government and sometimes the other, especially as those choices relate to the degree of freedom and responsibility that individuals want for themselves.
Where We Are Located
We are located at 117 West Street, downtown Rutland. For directions please call 802-775-0850.
A Liberal Religious Community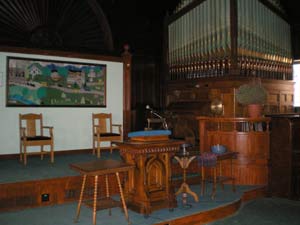 Are you looking for a church home where,
~ people affirm the integrity of each person's spiritual journey?
~ members work towards a fair and just society?
~ you can join a supportive community for all ages?
If this sounds like a church for you, be our guest this Sunday at 10:30

Our Mission Statement
The Unitarian Universalist Church of Rutland exists to provide a joyful and mutually supportive community of all ages, while fostering spiritual growth and the search for personal truth for the free and creative expression of thought, feeling and ideas; and to make a difference here in our own fellowship and in the wider community by working for a more tolerant, respectful and compassionate world.
Sunday services are at 10:30 a.m. All are welcome in the church if they follow state pandemic recommendations. Remote attendance is also welcome using this link: zoom.us/j/96613644703?pwd=YmQzUmJSWmNSTmtOVUFMWFZvTU9UZz09 Meeting ID: 966 1364 4703, Passcode: 386757.]