Online ZOOM Sunday Service at 10:30 A.M.
No In Person Services at the Church until further notice - ZOOM services Sundays as listed below at 10:30. - To hear our most recent recorded sermons click on "Hear Our Most Recent Sermons" in the column to the left. To read our most recent newsletter click on "Read Our Most Recent Newsletter" in the column to the left.
Because of the coronavirus quarantine, there will be no gathering for services at our church, until further notice. Here are our plans for this month's online services, via Zoom. Some programs, particularly Rev. Threet's, may vary to address the changing needs of the moment. We all miss being together, but while we are not, we can still keep in touch and help each other in fellowship.
Here is a link to a helpful video on how to use Zoom. (Just click on it, and the video will play!)
www.youtube.com/watch?v=9isp3qPeQ0E
If you need help during the week to get Zoom working for you, please call the church at 802-775-0850. You will be called back by someone who can guide you through it. Zoom is generally easy to use and it works on computers, tablets and smart phones.
To receive the required email invitation to join the Sunday Service please call Nancy Weis at (802) 273-3571.
October 25 - Well That Doesn't Sound Like Me, Or Does It?, - Molly Pratt - Are you responsible, easy going, uncomplicated and confident? How about conscientious, people-pleaser, outgoing, and a perfectionist? Maybe you are diligent, a peacemaker, rebellious and independent. Structured, attention-hungry, rebellious and self-centered. How does birth order affect our personalities? Let's explore together. The results may (or may not)surprise you.
November 1 - But the Bible Says - Rev. Barbara Threet ... homosexuality is a sin, women should be silent in church, men rule the household, some races are inherently inferior, people rule the earth and get to 'subdue' animals, and on and on. Or does it really say those things, and if so, why? And what else does it say?
Welcome to our new tenant - Horizons Early Learning Center 802-773-5300
We welcome the Learning Center to the use of our facilities. To contact the Center call. 802-773-5300. The center is independently operated an not affiliated with our church.
Your Liberal Religious Home in Downtown Rutland Vermont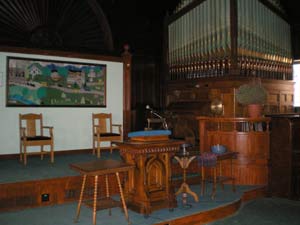 Are you looking for a church home:
>Where people affirm the integrity of each person's spiritual journey?
>Where members work towards a fair and just society?
>Where you can join a supportive community for all ages?
If this sounds like a church for you, be our guest this Sunday at 10:30 at the Unitarian Universalist Church of Rutland,117 West Street.
Statement of Support for Rutland Welcoming Syrian and Iraqi Refugees
"Because our Unitarian Universalist principles call us to affirm the inherent worth and dignity of every person, act with justice and compassion, and build world community; and because we recognize that communities are enriched by embracing cultural and religious diversity, RESOLVED that we, the Unitarian Universalist Church of Rutland, stand in support of Rutland welcoming Syrian and Iraqi refugees to the community and support efforts to ease the transition for the refugees resettling here."
Our Mission Statement
The Unitarian Universalist Church of Rutland exists to provide a joyful and mutually supportive community of all ages, while fostering spiritual growth and the search for personal truth for the free and creative expression of thought, feeling and ideas; and to make a difference here in our own fellowship and in the wider community by working for a more tolerant, respectful and compassionate world.
<div class="fb-follow" data-href="www.facebook.com/zuck&quot; data-colorscheme="light" data-layout="standard" data-show-faces="true"></div>
Child Care and Sunday School at 10:30
We believe Religious Education provides the opportunity for children of all ages to develop spiritual and moral identities.
Where We are Located
We are located in downtown Rutland at 117 West Street. Please call the church at (802) 775-0850 if you need directions.
December 8 - Rev. Barbara Threet - Let there be Joy