Your Liberal Religious Home in Downtown Rutland Vermont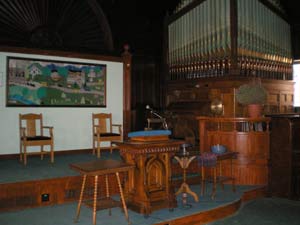 Are you looking for a church home:
>Where people affirm the integrity of each person's spiritual journey?
>Where members work towards a fair and just society?
>Where you can join a supportive community for all ages?
If this sounds like a church for you, be our guest this Sunday at 10:30 at the Unitarian Universalist Church of Rutland,117 West Street.
Statement of Support for Rutland Welcoming Syrian and Iraqi Refugees
"Because our Unitarian Universalist principles call us to affirm the inherent worth and dignity of every person, act with justice and compassion, and build world community; and because we recognize that communities are enriched by embracing cultural and religious diversity, RESOLVED that we, the Unitarian Universalist Church of Rutland, stand in support of Rutland welcoming Syrian and Iraqi refugees to the community and support efforts to ease the transition for the refugees resettling here."
Our Mission Statement
The Unitarian Universalist Church of Rutland exists to provide a joyful and mutually supportive community of all ages, while fostering spiritual growth and the search for personal truth for the free and creative expression of thought, feeling and ideas; and to make a difference here in our own fellowship and in the wider community by working for a more tolerant, respectful and compassionate world.
Child Care and Sunday School at 10:30
We believe Religious Education provides the opportunity for children of all ages to develop spiritual and moral identities.
<div class="fb-follow" data-href="www.facebook.com/zuck&quot; data-colorscheme="light" data-layout="standard" data-show-faces="true"></div>
Sunday Service at 10:30 A.M.
October 2 -- David Russell -- It Ain't Easy Being Green. An exploration of the disparities that exist between loft aspirations like reducing our carbon footprint and practical fact when they want to place a wind tower on the ridgeline behind your house. The good news is that there are ways to resolve these issues. The bad news is that Vermont hasn't figured them out yet.
October 9th: Rev Barbara Threet " U n i v e r s a l i s m : We're All Loved!" The sermon will explore the Universalist side of our UU heritage, and we'll also learn about a few not able
Universalists and sing an old(and very optimistic) Universalist hymn. Our own UU Church of Rutland started out as St. Paul's Universalist Church, so we'll also examine a bit of our own church's history. See you in church!
And RE Sunday October 9: Judaism Kids ages 5 and up will be exploring Jewish beliefs and traditions, beginning at 10:30am downstairs. Grades 5 and up will have a breakout session using digital resources with
Karen Kysar.
October 16th: Rev. Brendan Hadash
"Living with Parkinson's"
When Rev. Hadash's husband was diagnosed with Parkinson's eight years ago, he turned the lemons that life threw his way into lemonade by writing several children's books about Parkinson's. Brendan will explore how he has learned how to be supportive and will expand beyond the specificity of Parkinson's to other debilitating conditions that you or your loved ones may face someday.
October 23rd: Dick Weis
"Einstein's Dream"
October 30th: Fredda Mangel
"Day of the Dead- Calling Out to our Ancestors"
The Day of the Dead is a celebration that dates back hundreds of years and recognizes the cycle of life and death. Please bring a photo or memento of a loved one who has passed to place on our community altar. Blessed Be.
November 6th: Nancy Weis
"I'm So Sorry"
What does it mean to us and to others when we say we are sorry? There are many kinds and degrees of apology and many reasons for apologizing. How do apology, contrition, and forgiveness affect our lives and the lives of others?