Your Liberal Religious Home in Downtown Rutland Vermont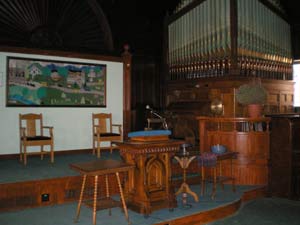 Are you looking for a church home:
>Where people affirm the integrity of each person's spiritual journey?
>Where members work towards a fair and just society?
>Where you can join a supportive community for all ages?
If this sounds like a church for you, be our guest this Sunday at 10:30 at the Unitarian Universalist Church of Rutland,117 West Street.
Our Mission Statement
The Unitarian Universalist Church of Rutland exists to provide a joyful and mutually supportive community of all ages, while fostering spiritual growth and the search for personal truth for the free and creative expression of thought, feeling and ideas; and to make a difference here in our own fellowship and in the wider community by working for a more tolerant, respectful and compassionate world.
Child Care and Sunday School at 10:30
We believe Religious Education provides the opportunity for children of all ages to develop spiritual and moral identities.
Sunday Service at 10:30 A.M.
May 15 Richard Gilbert, "Richard Gilbert : "Reflections on a South African Journey." He will reflect on South Africa as a case study in social justice that we can learn from in repairing today's broken world.
May 22 Becky Eno, "Singing Our Seven Principles", a music-focused service that will involve the choir, the RE kids, and congregational hymn-singing. Annual Meeting.
May 29 Speaker: your choice. "Pot Luck: Choose the topic" A surprise will be unveiled and the congregation will have input into the talk and speaker.
Jun. 5 Alis Headlam, "Diversity in Rutland: The Unity Project": We Are One Rutland is a photo voice project that looks at diversity from both a broad perspective and the intricacies of challenges and successes that accompany our differences. This photo story, prepared in collaboration with children from the Boys and Girls Club of Rutland and students from Stafford Digital Arts program, shows Rutland is a garden of many different flowers.
Jun. 12 Rev. Barbro Hansson, "Our Inner Compass": Our Inner Compass is made up of four Cardinal Dimensions, the Mind, the Heart, the Spirit and the Soul.
<div class="fb-follow" data-href="www.facebook.com/zuck&quot; data-colorscheme="light" data-layout="standard" data-show-faces="true"></div>